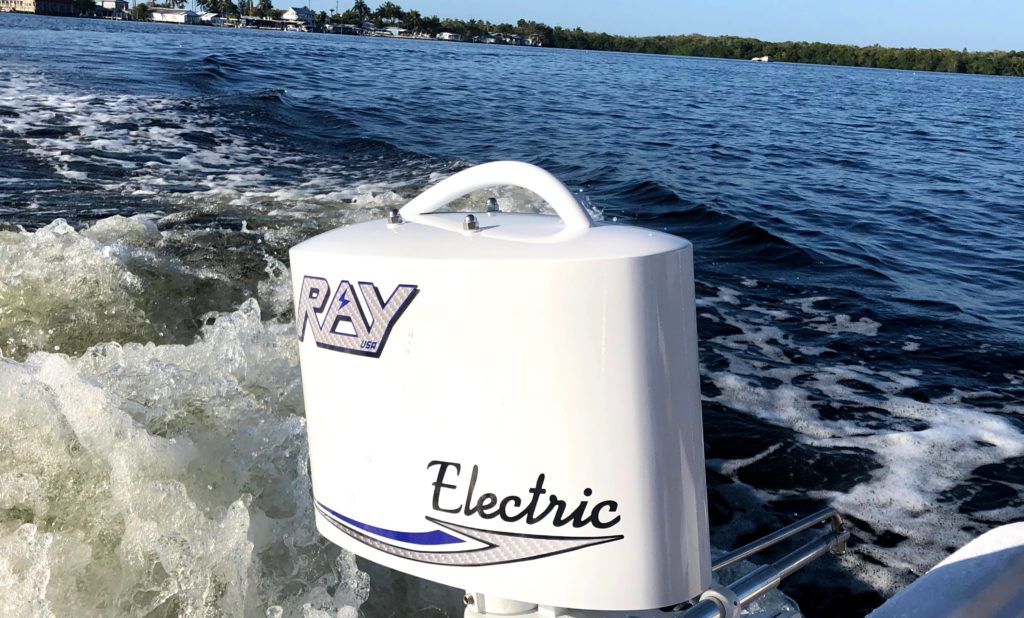 The most reliable electric outboard motor since 1973.
The first motor to be designed and patented as a primary power electric outboard, not some type of adaptation of a trolling motor or gas outboard conversion.
Non-polluting, eliminates fossil fuel usage, reducing your carbon footprint.
The Ray Electric Outboard can be installed on just about any boat and weighs about 75 pounds.
Delivers 300 lbs. of static thrust (System 600), equivalent to a 20 horsepower gasoline motor.
Large, efficient propeller — guaranteed not to bend or break for years with proper handling.
Starts instantly, every time.
Single lever speed control for forward/reverse and speed.
With instantaneous shifting you can shift as fast as needed.
Economical and easily fueled -just plug it in: approximately $1.50 -$3.50 to charge overnight.
Boat steers easily in reverse, unlike boats equipped with an inboard motor.
Smooth operation — does not smoke, shake, or make disturbing noises.
Able to tilt up out of the water – no barnacles or growth on the lower unit or prop.  Electric tilt option available.
Easy installation and operation with complete instructions.
Air cooled – no water pump to clog or burn out.
No winterization required — except to keep the batteries charged.
Built to withstand the daily rigors of heavy commercial use. See Testimonials
One year limited warranty (six months for commercial use.)
Industry standard for performance and reliability.
Heavy duty motor made from aluminum, stainless steel, and high-grade plastic that will last a lifetime.
Smooth direct reversing.
12 1/2″ x 12″ pitch weedless aluminum propeller — largest in the industry.
2.6 to 1 gear efficiency reduction provides higher torque than competitors.
Easy-to-read battery meter, allowing you to plan your trip accordingly.
Proprietary aluminum propeller protected by a Cerakote coating to last many years.
Patented dual-pass air cooling.
Built-In link arm for steering tube installation.
Twist grip control on tiller model.
Complete installation, maintenance, and operating instructions.
System 300
Rated HP Equivalent- 10
Volts- 36
Motor Weight- 75 lbs.
Batteries Required- 6 (6 Volts each)
Battery Weight- 384
Trolling Speed
Equivalent HP- 0.8
Run Time- 26 hours (depends on battery used)
Amps- 6.0
Medium Speed
Equivalent HP- 5
Run Time- 5.7 hours (depends on battery used)
Amps- 30
Top Speed
Equivalent HP- 10
Run Time- 2 hours (depends on battery used)
Max Amps- 80
Thrust Pounds- 200
System 400
Rated HP Equivalent- 16
Volts- 48
Motor Weight- 75 lbs.
Batteries Required- 8 (6 Volts each)
Battery Weight- 512
Trolling Speed
Equivalent HP- 0.9
Run Time- 24 hours (depends on battery used)
Amps- 6.5
Medium Speed
Equivalent HP- 8
Run Time- 5.2 hours (depends on battery used)
Amps- 40
Top Speed
Equivalent HP- 16
Run Time- 1.8 hours (depends on battery used)
Max Amps- 90
Thrust Pounds- 240
System 600
Rated HP Equivalent- 20
Volts- 60
Motor Weight- 75 lbs.
Batteries Required- 10 (6 Volts each)
Battery Weight- 640
Trolling Speed
Equivalent HP- 1.0
Run Time- 22 hours (depends on battery used)
Amps- 7.0
Medium Speed
Equivalent HP- 10
Run Time- 5 hours (depends on battery used)
Amps- 45
Top Speed
Equivalent HP- 20
Run Time- 1.6 hours (depends on battery used)
Max Amps- 100
Thrust pounds- 280
System 700
Rated HP Equivalent- 22
Volts- 72
Motor Weight- 75 lbs.
Batteries Required- 12 (6 Volts each)
Battery Weight- 768
Trolling Speed
Equivalent HP- 1.1
Run Time- 20 hours (depends on battery used)
Amps- 7.5
Medium Speed
Equivalent HP- 11
Run Time- 4.8 hours (depends on battery used)
Amps- 50
Top Speed
Equivalent HP- 22
Run Time- 1.6 hours (depends on battery used)
Max Amps- 120
Thrust Pounds- 300