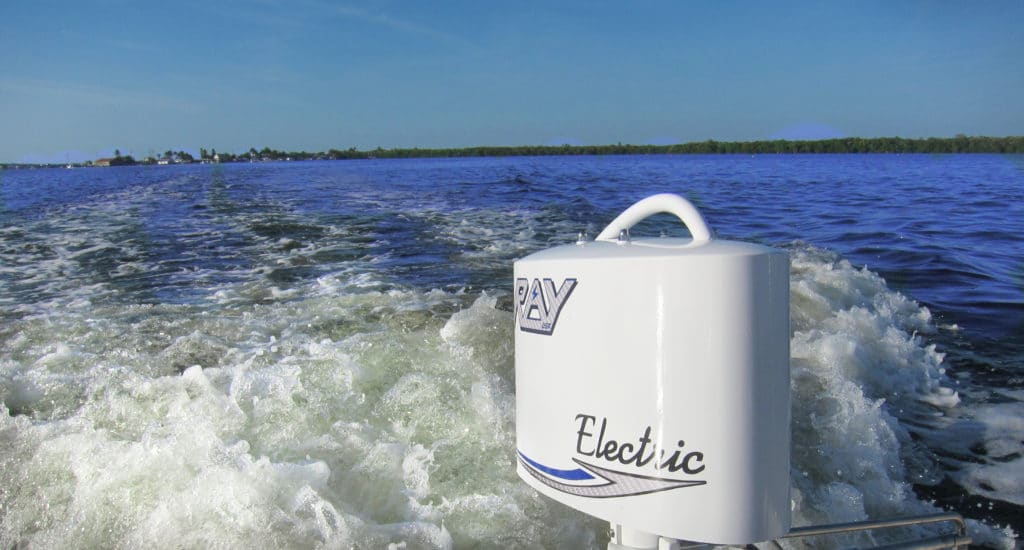 Our Ray Motor has been in service here for twenty years and has been one of the most reliable pieces of equipment which we use. It powers the boat on several tours each week… It is very quiet running and so allows a close approach to wildlife.

Birds, fish, White-tailed Deer and alligators are not alarmed by the soft sound of the motor. We operate with no fuel or oil aboard so it is completely non-polluting.
Mark Kramer, U.S. Coast Guard Licensed Master
George Regmund, Stewardship Biologist
Armand Bayou Nature Center

My total down time with this motor is zero.
J. Sauter, Baltimore, Maryland,
Reservoir fishing,
Jon Boats
We are now entering the eleventh season powering the 32′ Blue Heron with the same reliability we've come to expect in each of the past ten years. Absolutely no repairs have been required. In fact, we haven't replaced any of the batteries. I suspect this is due to the efficient system and its electronic controls.

Reliability is taken for granted… It always works.
C. Denney, Seneca Creek,
Maryland State Park, – Tour Boats
I have owned and operated electric outboard motors for over 20 years. I have carefully reviewed the design and engineering of all electric outboards available and this one provides better performance as well as quieter and more reliable operation. No problems are evident and the system has exceeded all expectations.

I can not emphasize enough that this electric motor system is the "Cadillac" of the industry.
W. Fleming,
Lake Barcroft, Virginia,
Pontoon boat
I bought a 22 foot pontoon for my "electric motors only" lake. After researching electric motors and seeing issues with other brands I found Ray Marine. I was worried about not having enough power for my larger boat, so I went with the 60 volt. Now I'm motoring with power to spare!

Fastest boat on the Lake! Couldn't be happier.
John L.
Wisconsin
Just a quick note to say thank you so much for the prompt turnaround on my repair. Amazing that with one phone call you were able to diagnose the problem and provide an accurate quote. You finished the job as promised and… we were back on the water in no time at all.

Will sing your praises to others at the lake. It is indeed rare, in this day and age, to receive such stellar service.
Jack Kingston
Georgia
No other motor combines adequate power with such workmanship, dependability and ease of operation. It's the main conversation piece for all electric boat owners in this area. You are to be commended for producing such a quality product as your Ray motor.

Ecologists and fishermen alike thank you. A satisfied customer.
C. Brown,
Baltimore, Maryland,
Reservoir fishing,
Jon Boats
The 48-volt electric motor that I purchased from you for use on my rental pontoon boat has performed far beyond my fondest expectations. All my customers express amazement at the speed and dependability of the motor despite the strong winds which sometimes plague the lake.

In my honest opinion, your motors are the best.
J. Ryan,
Lake Manassas Marina, Virginia, –
Rental Boats
We would like to add that the simplicity of design, installation and maintenance, quietness, power and reliability of your motor, in our opinion, are the outstanding qualities of your motor that determined our choice and have been satisfactorily proven through use.
R. Waterval,
Lake Barcroft, Virginia,
Pontoon boat
Tour Companies Using the Ray Electric Motor
Armand Bayou Nature Center, Houston TX
Capital Cruises, Austin TX
Contra Costa Water District, CA
Erie Canal, NY
Fairfax County, VA
Jungle Adventures, FL
Homosassa Springs State Wildlife Park, FL
Hontoon Island State Park, FL
Lake Mission Viejo, CA
Lone Star River Boat, TX
Penns Caves & Wildlife, PA
Presque Isle State Park, Erie PA
Seneca Creek Park, MD
Silver Springs, FL
Solar Whisper, Queensland, Australia
Storyland, NH
Wakulla Springs State Park, FL